Mould Types:

1,Two / Three Plate Moulds: Three-plate molds are cold runner tools, but by adding a third plate to the runner system, you are able to locate your injection point into virtually any location on the tool. This is usually less expensive than adding a hot runner system, however this type of mold often has large and unwieldy runners, which can be more difficult to automate.

2,Prototypes: A prototype mold is a low production mold that is used to prove out a concept. These molds are less expensive due to their materials and they lack durability.

3, Cavitation: A mould can have either a single cavity to produce one part per cycle or multiple cavities to produce several parts per cycle. A single cavity mold will be the most cost effective in terms of the cost to product the mold, but overall cost of producing parts will be more expensive because each cycle of injection molding using a single cavity mold will only produce on mart. A multi cavity mold is typically larger and more complex, therefore more expensive than a single cavity mold, but the overall cost of the finished part will be reduced due to increased production of numerous finished parts per cycle of injection molding. The customer should consider both factors when determining single cavity over multi-cavity molds.

4,Family Mould: A multi-cavity mold can be used to create a series of different parts within the same mold.

5,Cold Runner Moulds: Cold runner molds are traditional molds that utilize sprues, runners and gates into the part. This is typically the least complicated form of a mold. The sprue and runners do result in excess material used to make the part/parts, which may be re-ground and re-processed for future use. Dealing with more advanced, high-cost materials such as engineering and medical grade resins or the inability to use regrind in your application may lend itself to using a more efficient hot runner mold for your project.

6,Insulated Moulds: Insulated Runner tools resemble more traditional cold runner molds but utilize cartridge heaters or other methods of heating to form a surrounding layer of molten resin, forming an insulated [cull" to create a similar effect to a hot runner system. This approach is less expensive than using a hot runner which requires a temperature controller and also has the benefit of allowing for faster color and material changes. However insulated runners are not suitable for all types of materials and typically do not work well with more demanding engineering grade resins.
Project Information
Product Description
Part Name
Plastic Injection Molding Scanner Halter
Part Material
PC
Part Size(mm)
800*400*460

Mould Description
Cavity Insert Material
738HHRC33-37

Core Insert Material
738HHRC33-37

Slider Insert Material
738HHRC33-37

Mould Cavities
1
Mold parts Standard
Hasco
Mould Life Time (Shots)
300,000
Mould Type

Formal mold

Runner Description
Hot runner
Injection Gate Type
Tip gate
Ejection System
Ejector pin
Slide Qty.
3
Lifter Qty.
0
Injection moulding machine
280T
Top quality Plastic Injection Mold with professional project management service in Shenzhen,China 3K Mold is ISO-9001: 2008 certified. We use formal quality systems to manage the overall quality process and use precision measurement facilities by our well-trained team. All tooling and parts produced at our facility are constantly monitored by our Quality Assurance Department to meet your specifications.

Quality control Center:

3K team committed to meet customer quality and delivery request. The main quality control process as following:

Incoming quality control (IQC)

In process quality control (IPQC)

Quality assurance (QA)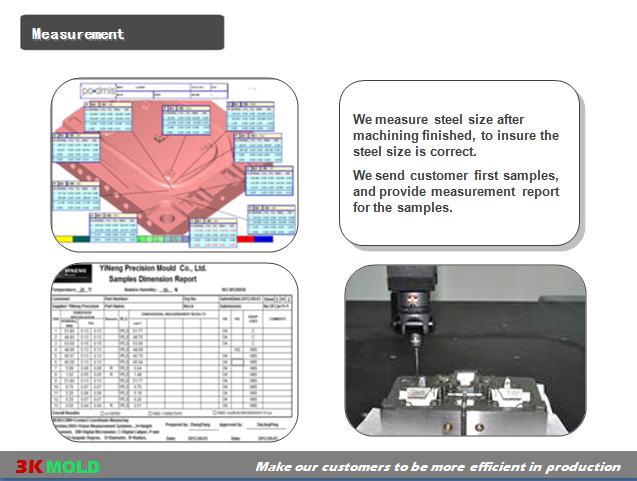 Quality management flow:
1. Mold base inspection

2. Steel inspection

3. Mold component inspection

4. Electrodes inspection

5. Mold checking before assembly

6. (FAI, CPK) First Article dimension report

7. Mold checking before delivery